Did you know that Heigl Foundation conducts regular transports from high kill shelters in Los Angeles to no kill facilities elsewhere in the US and Canada? In this reallocation of resources, we find animals that would be killed and bring them to other cities where there are lines waiting for our adorable adoptables! We have partners throughout the US and Canada.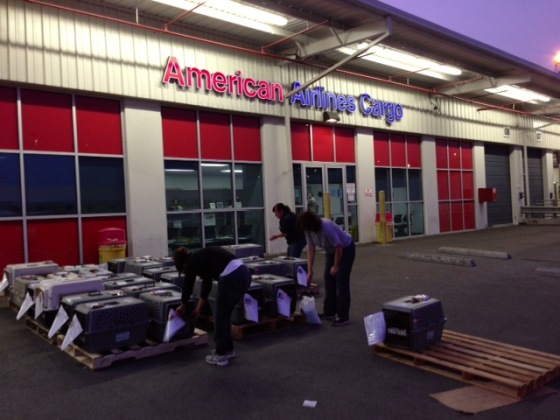 Since December 2012, the JDHF has been fortunate to partner with the North Shore Animal League America (NSALA), located in New York. As a part of our robust transport program NSALA serves as a destination shelter and has accepted 185 of our dogs since December, with only three still awaiting a forever home. In New York, there is a demand for small dogs such as chihuahuas, terriers, poodles and small spaniels that outstrips the supply. This is where JDHF steps in! We fly these dogs with their own crates, sweaters, food and water, for their journey across the country. They travel only on planes whose cargo areas are climate controlled and pressurized.
Mainly sourced from Baldwin Park Department of Animal Care and Control's location in Los Angeles, these lucky dogs are selected, health certified by a veterinarian, microchipped and sterilized to prepare for their trip. On the day of the transport, they are given plenty of exercise and play time before they are loaded into their crates for the journey by a group of our dedicated volunteers. They are greeted within 15 minutes of landing in New York by the North Shore team, who whisk them away to their facility in Port Washington. Upon arrival, the pups are again checked by a vet, bathed and coddled by their volunteers and then made available for adoption. Most are snatched up within the first few days of landing and all have found homes within a few weeks of arrival. It's important to realize that these are dogs that faced certain death at the shelter in LA.
Photo Gallery








None of these transports would be possible without our outstanding volunteers who help us prepare the dogs for their flights. If you are interested in helping out, please fill out our volunteer application form to get started! We are especially seeking volunteers who are certified to handle animals within the Los Angeles Department of Animal Care and Control and for volunteers that live near LAX. You can also help by donating small dog sweaters or blankets, or with a cash donation that helps to defray flight costs.