The Heigl Foundation is profoundly grateful to our dedicated group of volunteers who donate their valuable time to help us achieve our goals. In conjunction with our quarterly newsletter, we hope to highlight some of the special people that work tirelessly to help animals in need.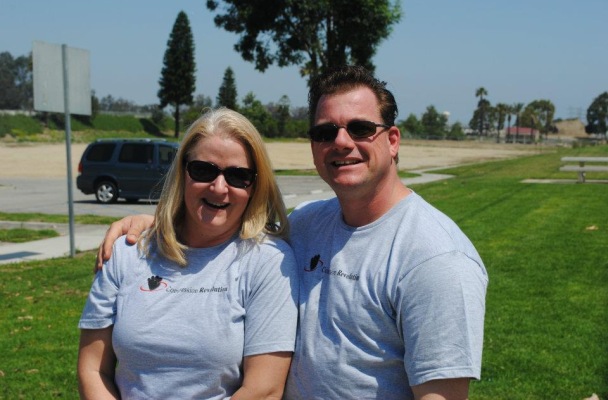 Mike Morrison and his wife Kellye Bruce are volunteer trainers for our Learn To Be A Best Friend initiative. Since May 2012, they have generously given up their weekends to run the amazing dog obedience program at Hollydale Park.
The couple first joined the JDHF at several of our adoption days in Glendale and soon jumped in to help us walk and train our rescue dogs at their boarding facility in the winter of 2011. By walking and training the Heigl Hounds, Mike and Kellye were able to enhance the quality of life and behavior of the dogs. This was tremendously beneficial to the adoption process, helping to secure forever homes for many of our four-legged friends.
When the Heigl Foundation started the Learn To Be A Best Friend program in Baldwin Park the response from the public was overwhelming. A decision was made to expand the course to the South Gate area of Los Angeles, where volunteers had to be recruited to run the new class. We were thrilled when Mike and Kellye accepted the invitation to take charge. The innovative program provides free basic dog training for attendees and a voucher for spay/neuter surgery for any unaltered dog that completes the class.
We are extremely lucky to have two dedicated people to help the Foundation and the residents of South Gate train their pets. To date, Mike and Kellye have helped over 150 animals!
Although Mike had to undergo surgery on his knee at the beginning of the year, he has not allowed the operation to slow him down. After just a few weeks R & R he was back at Hollydale Park to conduct a full dog training class.
The JDHF team and all of the families who have benefited from the expertise of Mike and Kellye are so very thankful for their wonderful work, generosity and kindness.