Wendy was found following a police raid on a property in San Bernardino County. She was in a very poor state of health. Alerted to her desperate need, Heigl Foundation staff rushed to collect her and discovered a severely emaciated dog with a painful open wound on her left front leg and countless badly healed cuts and sores covering her body. It was clear that she had probably been used as a bait dog.
Weighing just 28lbs, approximately half her healthy weight, the two year old Pit Mix was taken to Dr. Stan Kunin at the Veterinary Medical Center in Woodland Hills for treatment and to get an overview of her condition. Assessing the open wound that had clearly never been treated when it was inflicted, Dr. Kunin discovered that Wendy also had a newly broken right front leg. He advised that Wendy would need to have constant care to tend to her injuries and be fed several small meals a day to help her gain weight as quickly as possible.
Photographs
(click images to enlarge)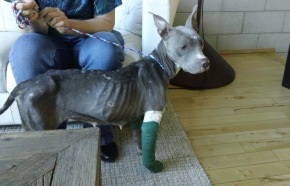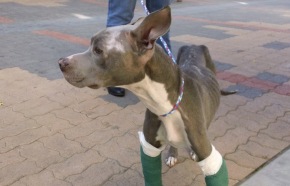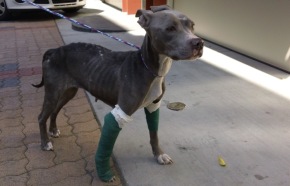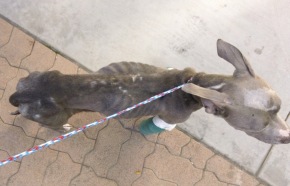 Despite her pain, Wendy's attitude remains unaffected. She is still in great spirits, full of affection and enthusiasm for people. She is just looking for some much deserved love and attention.
If you would like to help Wendy, please check out her Fundly page. 100% of your donation will go towards paying for her care and medical treatment. Any additional contributions over and above the costs will be used to fund adoption, rescue and transport programs focused on the saving the lives of companion animals. It will also benefit spay/neuter, education and training policies that help reduce the number of unwanted litters abandoned to shelters and subsequent euthanization.
Everyone at the Heigl Foundation wants Wendy to know that she will be taken care of throughout her recovery, that she will never experience suffering again and that she can look forward to living a long and happy life in a loving home.