6 weeks ago we rescued Wendy, a severely emaciated dog discovered by police during a raid on an apartment. Abandoned, she was found barely alive in a locked room with no food or water. With a painful open wound on her left front leg, a broken right front leg and countless badly healed cuts and sores covering her body, it was clear that she had been used as a bait dog.
Thankfully, her heart-warming recovery has been nothing short of remarkable, and today Wendy is barely recognizable, completely transformed from the frail dog that greeted us a little over a month and a half ago. The credit for her well-being goes to the expert veterinary care she received and, most importantly, the wonderful love and attention from her foster carer Mia Gyzander who has nursed Wendy back to health.
One of the Heigl Foundation's partners, Lori Weise from Downtown Dog Rescue, helped to connect us with Mia, who has been the perfect foster for Wendy. Since she has been in Mia's care, the 2 year old petite pit bull mix has almost doubled in weight to a now ideal 48 pounds. Wendy's wounds have healed and her broken leg has been repaired - it will be x-rayed for a final time prior to going to a forever home.
Mia reports that despite her ordeal, Wendy shows no signs of anxiety and is a lovely dog to have around. She adores every person she meets - and is all kisses and wags! Quiet and calm around the house Wendy is house broken, crate-trained and socializes well with other pups. Last weekend, after weeks of splint changes and having her wounds tended to, she was finally able to frolic around freely and enjoy a hike with friends without being held back. We can't wait to find the perfect home for this girl who has a new leash on life!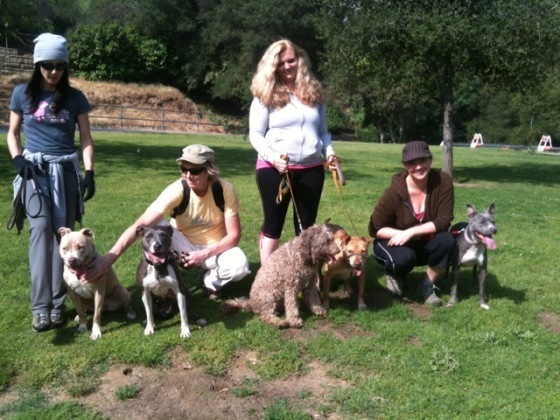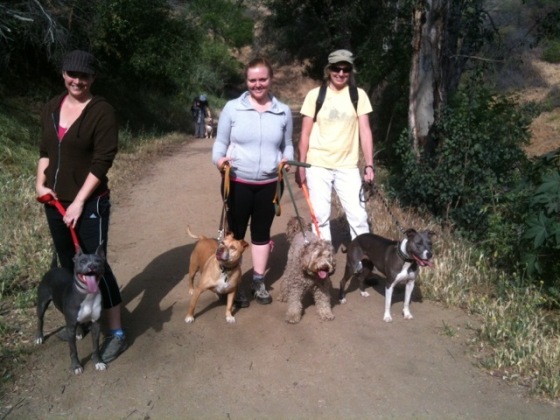 If you would like to adopt Wendy please get in touch with us by completing the form on her profile page. Thanks to everyone who helped support her recovery - now lets find her a home!