Many of you will be aware of Penny, the 3 year old dog that the Heigl Foundation rescued last month. The horrific victim of abuse and neglect, she was abandoned at the shelter fighting for her life and there have been times during the past few weeks when we really didn't think that the adorable pup would make it. But Penny's redoubtable fighting spirit and passion for life have helped her start to turn the corner on her road to recovery.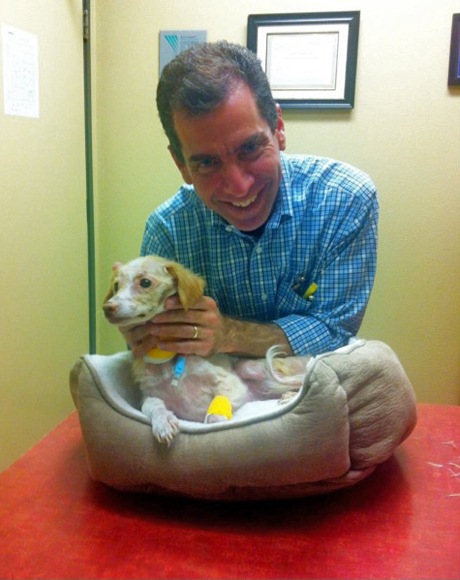 Thank you to everyone who has sent their good wishes and prayers for Penny! They seem to be working!
Two weeks ago we had to take Penny to the vet as she was refusing to eat, had lost weight and her frail body was ravaged by infection and disease. We were very worried as it seemed that the medication she has been prescribed was not working. We were able to get an appointment with a specialist in West Hollywood, Dr. David Feldman, who has worked with the JDHF in the past.
Following a series of tests (biopsies from her joints, blood tests, sonogram, skin punches etc.) Dr. Feldman diagnosed an auto-immune disease of the skin combined with a type of arthritis. She is now on a new combination of drugs and is doing wonderfully. She still has her feeding tube in, stitches from the skin punches and the holes in her muzzle that we are hoping will heal, but her energy is up, her attitude is completely different and she is moving around on her own!
The best part is seeing her tail wag when her name is spoken!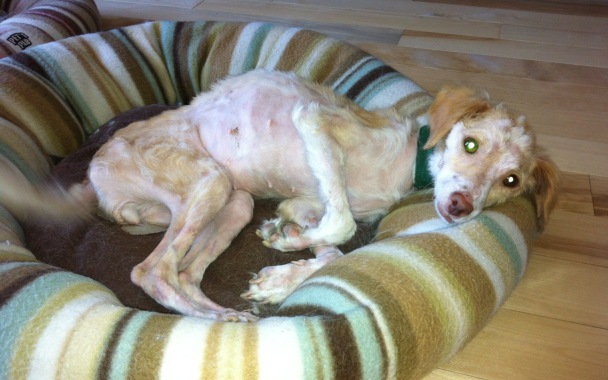 We really think that Penny is now on the mend and that she'll just progress positively, since we now know why the initial drugs weren't making the difference that we needed.
While this new diagnosis helps to explain Penny's skin condition, it doesn't provide answers to why she has two puncture holes on the sides of her mouth, the fact that when she came into the shelter she weighed just 6 pounds when she should have been nearer twenty, or why her nails were so long that they curled around making it impossible for her to stand or walk. Those answers lie with the neglect and abuse she suffered at the hands of humans.
However, it does give us direction and the hope that she will be able to recover and live a full life.
If you would like to help contribute to Penny's medical care, donations can be made using our online form. Thank you for your support.
We are working with the animal cruelty investigator and the District Attorney's office to ensure that Penny's abusers are brought to justice. This is the beginning of our Journey For Justice For Just One.
Update!
Penny went to the vet a few days ago and now weighs 9lbs 9oz! She had her stomach tube removed and all of her stitches (mouth, biopsy sites) out. She is eating like a champ and went up 1 1/2 flights of steps today! This is a HUGE accomplishment, since it means that she was putting weight on her atrophied hind legs, which was hitherto an impossible feat.