Many of you have been following the story of Sochi and Adler over the past few days and will be aware of the two pups rescued from Russia this weekend by members of the press covering the Olympics and staff associated with the US Olympic team.
We wanted to give everyone an update on the health of the dogs, address some confusion about the transport process and answer some of the common questions that we have received from those of you who have been touched by their story.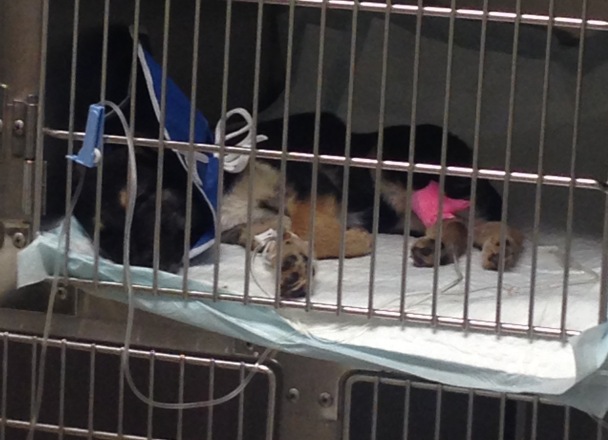 The Heigl Foundation's involvement with the rescue of Sochi and Adler began when we were contacted by the ASPCA. When the ASPCA became aware that the dogs were being transported to the United States they asked for our assistance in receiving them, assessing their health and handling the process of quarantine. Neither the Foundation or the ASPCA initiated or funded the transport, but both stepped in to help once we were made aware of the intention of the transporters, who were returning home from the Olympics, to bring the dogs into the country.
Both Sochi (male) and Adler (female) are currently in quarantine in accordance with US regulations designated by the Centers for Disease Control and Prevention. Quarantine is a public health practice used to stop or limit the spread of disease, and because the area of Russia from which the dogs came is classified as a Rabies-intensive, they will need to be quarantined for 30 days from the point at which they receive a rabies vaccination. This vaccination can only be given when a number of other immediate health concerns with the dogs are addressed, which means their timeframe in isolation will be significantly increased.
When the pups arrived in the country it was immediately apparent that they had serious health issues and they were sent for medical examination. Upon diagnosis, Nancy and Katherine Heigl instructed the Foundation's veterinary experts to administer all medical treatment required, as would be the case for any animal that came under our protection.
Sochi's health is currently the most precarious of the two pups. He was diagnosed with Canine Parvovirus, colloquially known as parvo, a highly contagious virus that is spread from dog to dog by direct or indirect contact with their faeces. It can be especially severe in puppies such as Sochi that are not protected by maternal antibodies or vaccination, and he faces a battle for his life. He was also very dehydrated after vomiting during his flight from Russia. Here are the latest updates we have from the experts caring for him.
Tuesday, February 25th - 9am
Sochi's blood sugar is dangerously low, so the veterinary team caring for him have started to administer glucose via an IV. A feeding tube has been inserted into Sochi's nose to provide crucial nutrition. His white blood cell count (WBC), which is a measure of the ability of the immune system to defend the body against both infectious and disease is still very low, so it is hoped that the food will help boost those defenses. The veterinary consultant gives Sochi a 50/50 chance at survival with the next 12 hours being critical. Generally parvo has a 3-5 day course with a maximum duration of 7 days.
Adler was diagnosed with bordetella, corona, mycoplasma and an upper respiratory infection. Initial fears were that she may have distemper, a potentially fatal disease, have proved to be negative. However, it is not uncommon for distemper to give false readings, so we are cautiously optimistic. If, as it appears, she is free from the disease, the other conditions that she is suffering from are minor and do not pose any risk to her life.
Tuesday, February 25th - 5pm
Sochi has responded well to the feeding tube. He is being fed slowly as his intestines are torn up from the past few days (vomiting) and the medical team do not want to cause any more distress. The tube went in easily and an x-ray verified that the insertion went well. His temperature has come down which is very good news and his sugar level is up to 220 (a high level but a LOT better than the 40 it was). The fact that Sochi has responded to the glucose should give us hope. The vet now rates his odds of survival at 55/45 which is a slight improvement.
Wednesday, February 26th - 9am
The doctor thinks that Sochi is really making a turn for the better and has a good chance of survival! His WBC is now in the 9000s and glucose level in the 160s and he is handling food wonderfully. The veterinary team are going to switch him to an even more robust version of food today to provide additional nutrition to aid his recovery.
Many of our readers and followers have asked if there is anything they can do to help. Anyone who wishes to support the pups recovery and contribute to the cost of their medical care can do so using our online donation form, or by simply clicking the button below.
There were a number of you concerned that by bringing strays back from Russia, when there are so many companion animals throughout America in need of homes, that the dogs would end up in a shelter and exacerbate the overpopulation problem. That is not the case. Sochi and Adler, should they both hopefully make a full recovery, have already found loving homes. Sochi will be adopted by Amanda Bird, the marketing and communications director for the USA bobsled and skeleton team.
The JDHF does not encourage the public to import animals from other countries. However, we recognize it can be very difficult emotionally for anyone to see an animal suffering and not to want to help. We would urge you to please check with your vet and the CDC before you consider bringing an animal into the United States.