Dog fighting is an abhorrent and barbaric activity. Sadly, this sickening and illegal practice still occurs in every part of the country and in every type of community. Our attention was drawn yesterday to a horrific case of cruelty in Greenville, South Carolina, reported by Noah's Arks Rescue - a non profit organization that supplies emergency medical, surgical and rehabilitation to abused animals.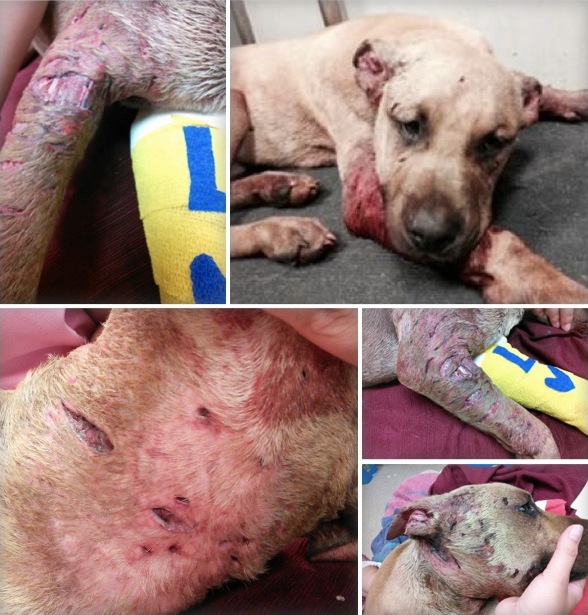 Sparrow, a 5 month old Shepherd Mix was discarded in a yard after being brutally attacked in a dog fight where he had been used as a bait dog. His head, ears and front legs were covered with bites and tears - injuries so severe that all of the ligaments and tendons were visible. Greenville County Animal Control brought Sparrow to the Noah's Arks Veterinary Care Facility in critical condition where staff initially feared that he may not make it through the night, due to the extent of his wounds and the amount of blood lost.
Fortunately he survived, but remains in critical care. He does not have any broken bones but his ligaments and tendons are so damaged that he may lose one of his front legs because the radial nerve has been severely injured.
Sparrow is currently heavily sedated and resting comfortably. It is hoped that because he is young puppy he will bounce back more quickly once he has received the medical care required. However, there remains a real risk that he could lose a leg.
Please visit Noah's Arks Rescue for more information about Sparrow's battle for survival. To help support his recovery, donations can be made toward the cost of Sparrow's medical bills via the Noah's Arks Rescue web site.
Together we must act to stop dog fighting. If you are aware of anyone who is involved in this vile practice please contact the authorities in your area. At the Jason Debus Heigl Foundation we are committed to ensuring that perpetrators of animal abuse are held accountable and prosecuted to the full extent of the law.