One of our very special Heigl Hounds of Hope is Marcus. He is one of the most handsome guys we've seen in a LONG time - with striking amber eyes and the coat of an Irish wolfhound, Marcus is obviously mixed with something much smaller, as he's only about 55 pounds.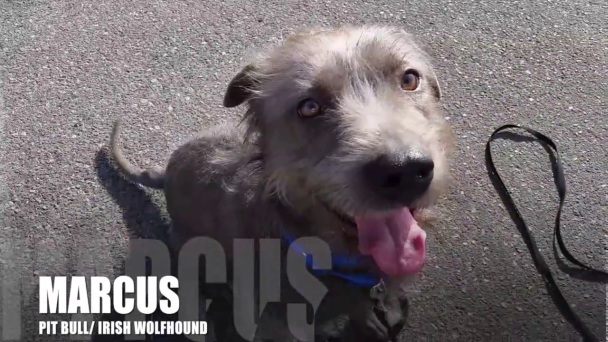 When we were in Tulare (between Fresno and Bakersfield) visiting their shelter as a prospective grant recipient, he grabbed our Executive Director's eye. "I felt certain that this gorgeous dog would be snatched up in no time," said Jennifer Brent. However, Marcus (originally named Ruckus) had a tough time living in the shelter environment and had some scuffles with the other dogs. A friend of the Foundation and expert trainer, Bobby Dorafshar, offered to take Marcus into his 'Pay it Forward' program at his kennel and training center, K9s Only, where he would provide intensive training to Marcus at no cost.
Marcus thrived at training. He met new friends, learned how to be appropriately social in all kinds of environments and most of all, learned self-control. We suspect that he had been left in a backyard and never received any basic understanding of how to behave with people or dogs. All of that is in the past now, however - Marcus is like a brand new dog - he's learned how to trust people. He has learned that life is good and filled with wonderful new experiences, dogs and folks who use their hands for pets instead of hits.
Our friends at K9s Only have put together a great short video demonstrating Marcus showing off some of his cool skills. He is ready to be adopted and we ask that whoever takes him home continue his training (K9s has offered to help the new adopters at zero cost to the family) so that he can acclimate easily to his new surroundings.
Check out the video and please consider adopting Marcus!