Be sure to check out the Marvelous Mutt Mixer event on August 6 at BarkBox HQ in New York! Proceeds from the fundraiser, which will take place between 6:30pm and 8:30pm at 221 Canal Street, will go to the Jason Debus Heigl Foundation. Activities will include a raffle with pawesome prizes - including an exclusively designed collar from J & B Custom Leather, 4 VIP tickets and a meet and greet to The Nightly Show With Larry Wilmore, a prize pack from LazyBonezz, and a dog fascinator and matching necklace from Babette's Maison De Woof.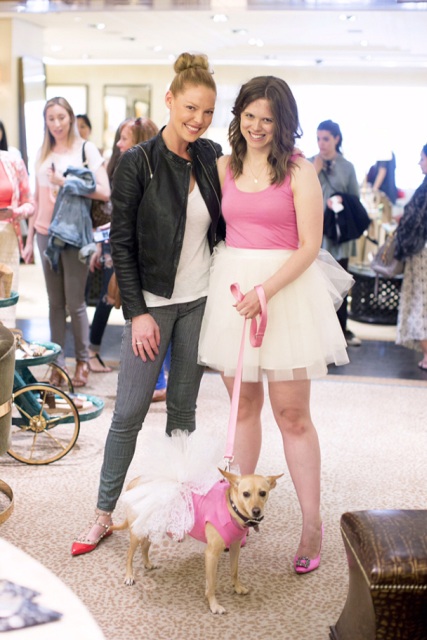 Mary Williamson and her dog Holly will be in attendance. The duo raise awareness of pet adoption and encourage people to rescue animals from local shelters by wearing matching outfits.
"There is definitely a misconception that all rescue animals are in some way ugly or damaged or mean," says Williamson. "So Holly and I set out to use our stylish ensembles to prove to the world that you don't have to be purebred to be 'paw-sitively' fabulous. She continues, "If I can make even a few people rethink buying a trendy purebred pup and instead consider visiting their local shelter, I've done something that's made an impact."
During a recent visit to Bergdorf Goodman in Manhattan to try on the blue satin Manolo Blahniks that appeared in Sex and The City, Mary and Holly met our very own Katherine Heigl! Read about their chance encounter at This Dogs Life.
Be sure to visit the Marvelous Mutt Mixer web site for more information about the fundraiser and to RSVP!