Meet Katherine Heigl on the set of her new thriller Unforgettable on Saturday, September 19 and help animals in need!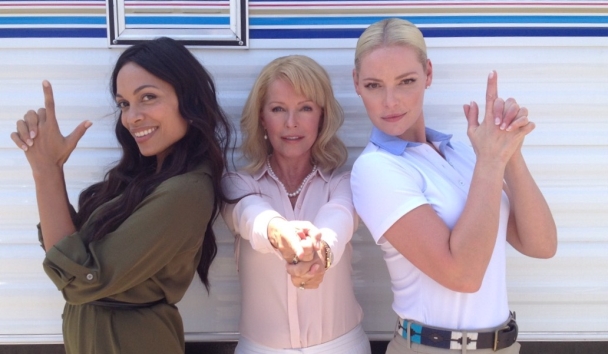 Charity Buzz is offering the winning bidder of their online auction the chance to spend a day in Los Angeles on the set of Katherine Heigl's new Warner Bros picture. They'll get to enjoy lunch with the cast and crew, meet Katherine and bring home a bundle of signed swag!
Proceeds from the fundraiser will go to the Jason Debus Heigl Foundation to further our mission to help companion animals, fight cruelty, mistreatment and ignorance, and help address the pet population crisis in the United States, where millions of healthy, adoptable animals are euthanized in the municipal shelter system every year.
Katherine kicked off the auction by posting a photo of herself on social media from the Unforgettable set with co-stars Rosario Dawson and Cheryl Ladd. The trio were pictured recreating the iconic Charlie's Angels pose made famous by Ladd and her co-stars in the iconic 1970's TV crime drama.
So head on over to Charity Buzz for all the terms, info and goodies that come with the auction and get bidding!