In Houston, Texas a group of dedicated volunteers called the Forgotten Dogs Of The 5th Ward Project, help the homeless animals of an impoverished area of the city know as the Fifth Ward. An area which has a significant and growing population of stray dogs abandoned to roam the streets and fend for themselves.
Yesterday on the Foundation's social media pages, we shared a video taken by a Forgotten Dogs volunteer of several dogs trying to shelter from the pouring rain under the overhang of a building which afforded them little more than 12 inches of dry pavement. There were once five dogs in the pack, but one was killed after being deliberately hit by a car, while another was fortunate enough to be rescued.
Rescue organization Forgotten Dogs were trying to get the three remaining at risk animals, named by staff as Polly, Bubba and Hudson, to safety and out of the elements. Unfortunately without any foster home availability or money available to pay for boarding, the situation was getting desperate. Polly, the senior female dog (orange and white) also had an injury that needed veterinary attention.
To help our four-legged Texan friends and the dedicated team at Forgotten Dogs Of The 5th Ward Project, the Jason Debus Heigl Foundation has stepped in to sponsor the three dogs, covering the costs of boarding, training and any medical treatment that is required.
Injured senior pup Polly has already been picked up by the team and is enjoying a good meal in a safe place, protected from the weather!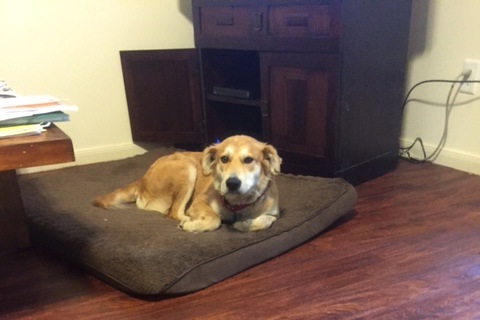 However, both Bubba and Hudson are still on the street. Forgotten Dogs volunteers are struggling to find fosters and/or a boarding facility that can take the dogs until the preferred location is available next week. The proximity to Memorial day weekend and the fact that the dogs are not spay/neutered or vaccinated has also exacerbated the problem. If you are in the Houston area and able to help please get in touch with the Forgotten Dogs Of The 5th Ward Project team.
Unsurprisingly for dogs abandoned by their owners, the trio are not well socialized and staff will need to work with the dogs to facilitate interaction and provide training. This will help with the process of finding permanent homes for the dogs where they can receive the love and care they so richly deserve.
If you would like to support Polly, Bubba and Hudson and help with their medical care, boarding and training costs or further assist our work with rescue groups like Forgotten Dogs that are making a real difference on the ground, please consider making a donation. Every single cent of your contribution will go to help animals in need.