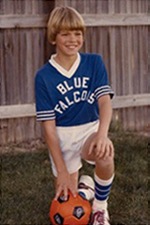 The Jason Debus Heigl Foundation was founded in 2008, by Nancy and Katherine Heigl. The Heigl's desire to end cruelty and abuse inspired them to create an organization dedicated to animal welfare that would celebrate the compassion, kindness and memory of a beloved son and brother.
On September 23rd 1986, Jason was in a tragic car accident and suffered massive brain damage while returning to New Canaan High School with three friends. He died one week later in Norwalk Hospital and the family decided to donate all his organs to help others live. He was 15 years old.
Throughout his brief lifetime Jason loved all animals, especially dogs, cats and monkeys and he lived his life extending compassion and kindness to all creatures great and small. The Foundation is his legacy.
The goal of the JDHF is to eliminate the needless suffering inflicted on animals by human cruelty, indifference and ignorance.
Our Mission
Dedicated to animal advocacy, the focus of the Heigl Foundation is to:
Work directly to address the pet population crisis.
Increase awareness of the inhumane treatment of animals.
Support non-profit animal rescue and advocacy organizations in their efforts to save shelter animals.
Assist homeless shelter and rescue animals by financing medical treatment and veterinary care.
Fund and encourage free spay / neuter programs and clinics.
Place rescue dogs and cats in loving homes.
Provide safe havens for animals that have been abused or neglected.
Educate the public about the horrors of puppy mills and dog fighting.
Ensure that perpetrators of animal abuse are held accountable and prosecuted to the full extent of the law.
In pursuit of our mission, the JDHF also routinely funds qualified rescued groups as part of our networking program designed to aid non-profit animal rescue and advocacy organizations in their efforts to save shelter animals. The Foundation assists with the transport of animals from high kill shelters to forever homes in communities where the demand for companion pets is high, funds free spay / neuter procedures for the pets of qualified caretakers and provides compassion education and training programs.
The Foundation maintains an internal rescue group, the Heigl Hounds Of Hope that is focused on finding homes for medium to large dogs from high kill shelters. Many of the animals have suffered neglect, abandonment and abuse.
We are committed to directly addressing the pet overpopulation crisis and our Compassion Revolution initiative is an extensive no kill model that encourages accessible and affordable spay / neuter programs for all pet owners and the tools to promote responsible pet ownership.
Profiles

Nancy Heigl got her start in the entertainment industry, managing daughter Katherine Heigl's acting career. In 2007, she added producing to her resume and partnered with Katherine to form Abishag Productions.
Under that banner, Nancy strives to seek out, develop and executive produce exciting and dynamic projects for their company, such as the forthcoming adaptation of Ann Hood's best-selling novel "The Knitting Circle" for HBO. Her executive production credits include "Life As We Know It", "27 Dresses" and "The Ugly Truth".

Katherine Heigl is an Emmy Award winner and Golden Globe nominated actress, best known for her starring roles in the feature films "The Ugly Truth", "27 Dresses" and "Knocked Up", as well as her portrayal of Dr. Isobel 'Izzie' Stevens in the television medical drama "Grey's Anatomy".
In addition to her work in front of the camera, she has also served as an executive producer on a number big screen productions. For more information and news about Katherine and her career please visit her official web site.
Support
The Jason Debus Heigl Foundation is a 501(c)(3) non-profit corporation funded entirely through voluntary donation and the support of Nancy and Katherine Heigl. Any contribution that you provide will directly benefit our animal welfare efforts and programs. We thank you for your support.
We invite you to join us in helping to bring about change. Together we can make a difference.