Program Mission
The Compassion Revolution is a major companion pet initiative with the broad mission to unite diverse groups and individuals under one alliance to implement programs that directly address the pet overpopulation crisis in the Greater Los Angeles area and set a precedent for similar programs across the United States.
It was launched at a press conference held on September 23rd, 2010 at the Four Seasons Hotel, where Katherine Heigl accompanied by the Jason Debus Heigl Foundation Board announced a $1 million pledge for spay / neuter and supporting programs in the City and County of Los Angeles and neighboring communities.

Statistics
The current statistics are staggering:
Between 6 - 8 million dogs and cats are abandoned at shelters in the United States annually.
5 out of 10 shelter dogs and 7 out of 10 shelter cats are euthanized annually across the United States.
500,000 companion animals are euthanized every year in California.
Each year, California taxpayers spend $250 million to shelter and euthanize dogs and cats state-wide.
In 2009, Los Angeles County shelters took in 83,252 cats and dogs. Of that number 50,692 were euthanized.
In 2009, Los Angeles City shelters took in 54,129 cats and dogs. Of that number 19,547 were euthanized.
The Compassion Revolution advocates an all encompassing solution to the issue of pet overpopulation that rejects the euthanization of large numbers of companion animals as a method of achieving results.
Spay / Neuter Programs
The most practical and immediate means of tackling the crisis is through spay / neuter programs that are accessible and affordable to all pet owners, combined with the provision of the tools necessary to promote responsible pet ownership, such as information, education and training.
Under the banner of the Compassion Revolution, the JDHF funds a number of free or subsidized programs that provide spay / neuter, vaccination and microchipping services to residents of designated zip-codes and low-income areas. The goal is to decrease the number of stray animals, shelter intake, euthanasia rates and all associated costs.
Training & Education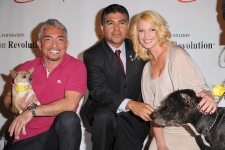 The JDHF also offers financial support to partner organizations that provide complimentary basic obedience training and pet care education programs to the general public.
We believe that this is a crucial exercise, as many pet owners surrender their animals to shelters for alleged behavioral issues that can often be easily corrected with simple training techniques. Our education initiatives cover topics such as the integration of the pet into the family, positive reinforcement training, house breaking and proper dog socialization.
Instructors also provide information on topics such as the importance of spaying and neutering pets (including referrals to local no cost or low cost spay / neuter services), local laws applicable to pet ownership, the availability of low cost veterinary care and the grim reality of relinquishing a pet to a municipal shelter.
Transport
As effective as spay / neuter is in the medium term, an enormous and immediate need exists to save as many abandoned and neglected animals as possible. The Heigl Foundation supports and subsidizes the transport of animals from shelters where they are scheduled to be euthanized, to pre-approved humane societies, rescue organizations and no kill shelters in an effort to reallocate companion pets from overpopulated areas to locations with fewer adoptable animals.
Networking
The Compassion Revolution promotes the adoption of companion pets from local shelters and discourages the purchase of pets from pet stores that obtain animals from commercial puppy factories commonly known as "puppy mills." Additionally, the Heigl Foundation will continue to subsidize adoption fees for approved networking programs and partners, to help encourage rescuers to take in more animals who are at risk of imminent euthanasia by helping them to offset some of the enormous expenses they face.
How You Can Help
Nancy and Katherine Heigl, on behalf of the Heigl Foundation, our partners and supporters, invite you to be part of the effort to address the pet overpopulation crisis through donations, volunteerism, education and by simply encouraging family members, neighbors, friends and colleagues to be part of the solution by joining the Compassion Revolution.