Profile
Name:

Miha

Breed:

Pit Bull Mix

Gender:

Female

Age:

9 years old

Photos:

4

Videos:

0

Status:

Apply to adopt Miha
This girl needs a break! She lived with her family for 8 years before they gave her over to the shelter. She was punished for doing what they asked her to do - which was to be a watchdog. Miha was sad and scared when she came to us, but she has come a long way back to her sweet self since then. She is friendly now, even to strangers and is gaining some of her confidence back each and every day. She has started some gentle training and is going for longer and longer walks. We don't know if she gets along with other dogs yet, but we do know that she loves a treat and will sit in a heartbeat to get one! Miha needs a gentle hand and some love and understanding.
Although she is close to 9 years old, you would never know it. She does have a maturity in her demeanor, but not in the looks department, she could pass as a teenager. She is on the petite and dainty side for a pit mix. Miha deserves a soft bed and a kind hand after what she's been through, could it be you?
Videos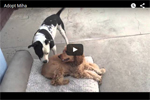 If you would like to apply to adopt Miha please complete our application form.